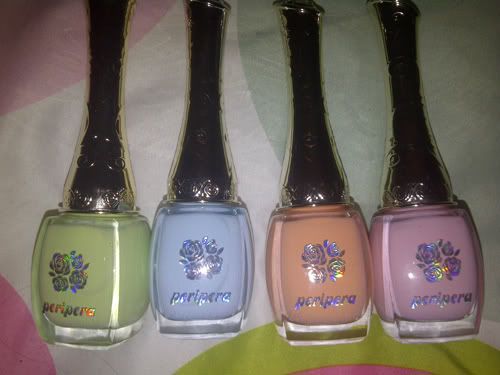 I heard of Korean cosmetics brands
PeriPera
a few weeks ago. Their products looked pretty standard of an asian brand to me, until I came across their nail polishes. Cute bottles, gorgeous pastel colors and most of all, the tag like
"1 coat, 1 minute, 1 week"
. Apparently these little beauties only take 1 coat, dry within 1 minute and will last up to a week. Instantly I wanted to try them! I'd wanted pastel colors for quite some time and never found shades that I liked until I stumbled upon PeriPera so even without the tag line I probably would have bought these.
I tried all of them on and my favorite color definitely is
vanilla lime
.



But I was disappointed because their tag line really didn't translate well, not on me anyway.
Maybe my nails are too long/large, but
one coat
definitely
wasn't
enough. I had to apply
3 coats
to get the opaque color I wanted. I didn't take long for them to dry, but with 3 coats it was easy to smudge, I smudged a few of them, so I had to take the time to let the coats dry in between each other.
And they definitely didn't last 1 week. More like
2 days
. How disappointing... Sigh.
All in all, I love the colors and will be using them again for sure, but the whole "1 coat, 1 min, 1 week" thing didn't work for me.
Have you heard of PeriPera and their polishes? Have you tried them? Did you like them?
Note: I was not sponsored for this post, I purchased these polishes with my own money and reviewed these on my own time. This is just my opinion.