My parents are divorced so for the past few years I've celebrated my birthday twice each year.


This year with my mother, we went to the restaurant. D., my brother and his girlfriend came with us the Thursday night (July 21st, actual birthday was July 22nd).


Usually I picked an Asian restaurant to go to but this year I wanted to make it a little different, so I went for a French restaurant I had been to the year before and had been really wanting to go back.
For the occasion I decided to wear the orange dress I got for super cheap a month earlier.
I also curled my hair with the curling iron, but it was so hot and humid that they didn't stay put very well...
I had light make-up, I figured it wouldn't matter with the heat it would likely melt away.


The restaurant...


Maison Chaloin
http://www.maisonchaloin.com/
The inside is cozy and seats about 20-30 customers at most. There were a few people when we came in, but they had all left by the time we ordered. A few other customers came in later.
Is a small restaurant slash chocolate shop/factory owned by two French gentlemen that moved to Canada in 2008. Every single thing they make is made from scratch at the restaurant. They sell chocolates, macaroons, cakes and gelatos. Half of is it the shop, and the other half is the restaurant. And as I've said, every thing is made from scratch, by hand, home made, including everything on the menu.
They specialize in crepes, sweet and salty ones. But they also have pizza, pasta, salads and desserts of course.
And now... Onto pictures of FOOD!
My plate... Chicken, mushroom and creamy cheese crepe with salad and tomato soup.
This was "Table d'Hote" so it included a drink and a dessert.
My brother's dish. 4 cheese pizza with salad and tomato soup.
I didn't get a chance to photograph everyone else's dishes, they were already stuffing their faces. But who can blame them! The food there is
AMAZING!
My mother had a smoked salmon and maple syrup crepe. D has duck and date crepe. And my bro's girlfriend had pasta which looked SO delicious! I'll definitely be having a pasta dish next time.
My dessert!
Small cake with chocolate, raspberries, whipped cream and lime gelato (my favorite!)
While everyone was choosing their dessert (because you get to choose from a wide variety in a display window, I snapped pictures of everything (or almost) they had.
Cake display...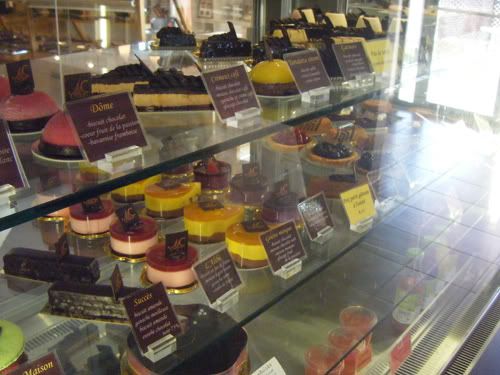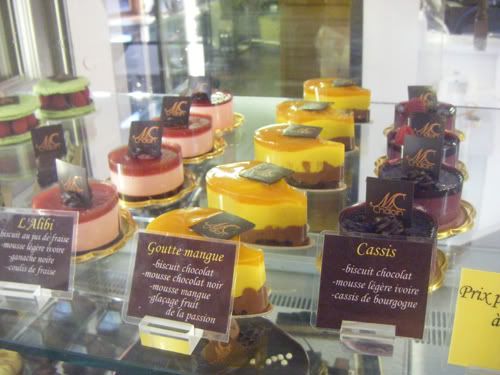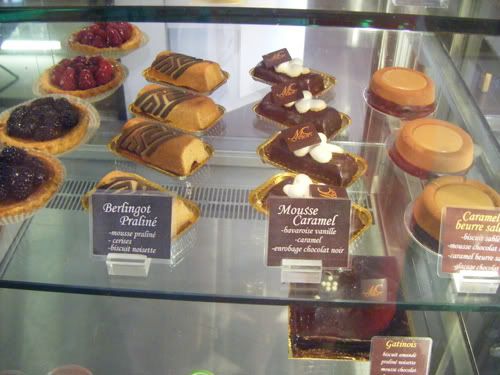 Macaroons, in the display on the other side...
Chocolates display...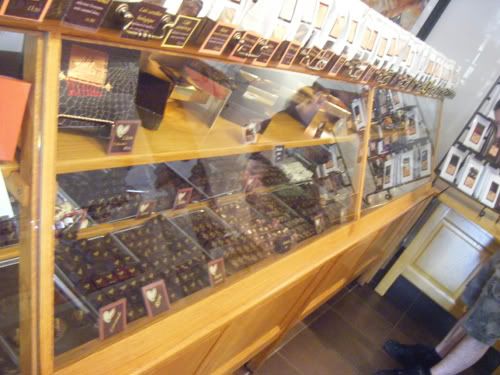 A lot of their chocolates are made out of
flowers
! I had the chance to taste some of them last year and they're delicious! Everything you can order to eat there, or take out. They put everything in super cute boxes which makes it all perfect for
gifts
too.
All in all it was a great dinner and I'm definitely going back again! Any next occasion or even just for a nice coffee break and snack. The service has been impecable every time, I definitely recommend
Maison Chaloin
, if you are in the area. They are located in Hull on St-Joseph Blvd. Check out their website for more info, they also recently opened a chocolate store (no restaurant) in Ottawa!
Part 2 of birthday coming up soon...
What do you think of all these sweets?
Which one would you have picked for your dessert?