When I got back from holidays I saw a flier with back to school room decoration. I'm done school, but a lot of the things they had were bright colors, and that's what I enjoy the most. If it was just for me, I would have spend thousands of dollars at the store, but I kept myself under check. I bought two organizers for my closet (they didn't have pink ones in store, so they ordered them for me, I haven't received them yet) and I bought NEW BLANKETS!
When I moved into this house, I decorated all of my room by myself. My mother helped with painting and she sewed the curtains for me, but that's all. As I mentioned before my favorite color combination is pink and orange, it always cheers me up, so that's the theme for my bedroom.
I won't be posting pictures of my entire room today because there are still a few things I want to improve, but to show my new bed set, I took pictures of my bed area.
This is what it looked like BEFORE: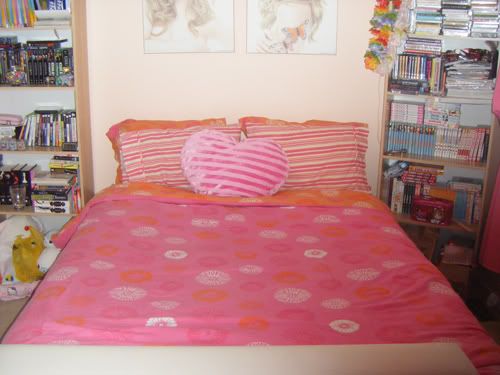 I bought this bed set right before we moved into this house. You can flip the pillows and blanket over, one side is pink, one side is orange with flowers all over. I really loved it for the longest time, but when I saw these new ones in the flier, I wanted a change!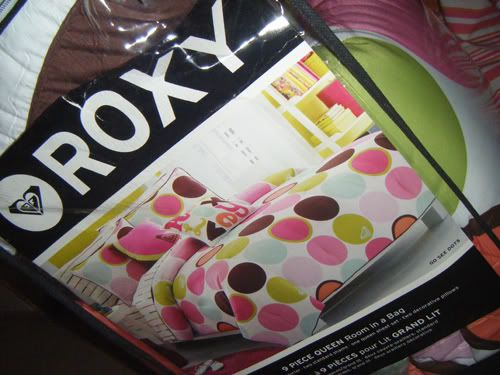 It's ROXY. Ironically enough, the same brand that's sold at BoatHouse (one of my favorite store, see below), and it's the same brand I bought my bikini from!
So, this is what it looks like AFTER: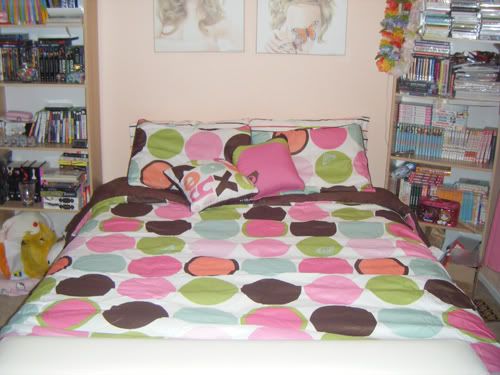 (I need to re-arrange my shelves, haha, you can tell they're a bit... overloaded?)
It's a really nice change, I love it. It makes the room seem lighter and my bed looks bigger too. It's super comfy and soft!
I added my mamegomas that I bought in Tokyo n_____n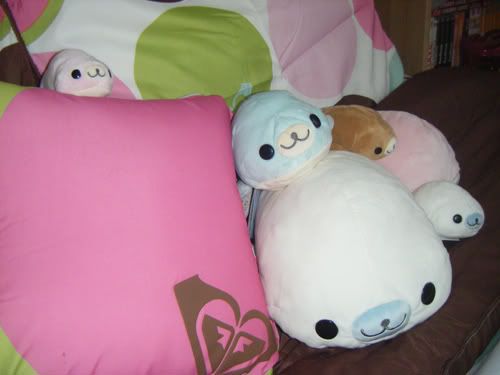 The white at the end of the bed is my couch. I've got a white love seat hanging there. I really like it. I'll show pictures of my whole room once I'm satisfied with the little changes I want to make.
What do you think?