Part 3, final post about my short summer vacations.
It took me so long to write it because I had to go through all my pictures and pick my favorite ones to post. I took hundreds of pictures so it took me quite a while. But here we are!!
This was all on August 11. We left August 12 to come back home.
First we started the day with some shopping at "Les Galleries de la Capitale". It's this HUGE malls, with tons and tons of stores. And also some attractions! A mini amusement park inside!! How awesome is that?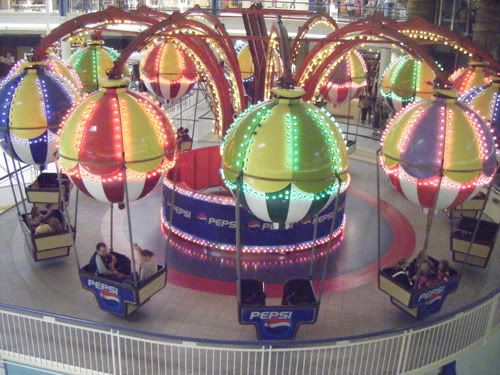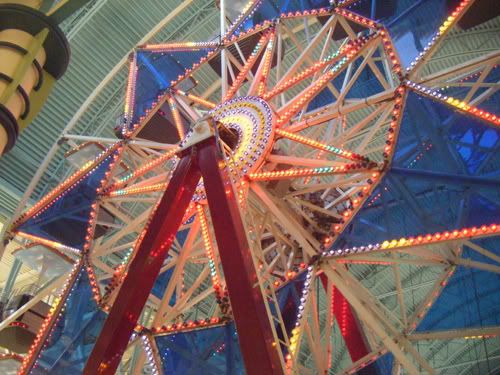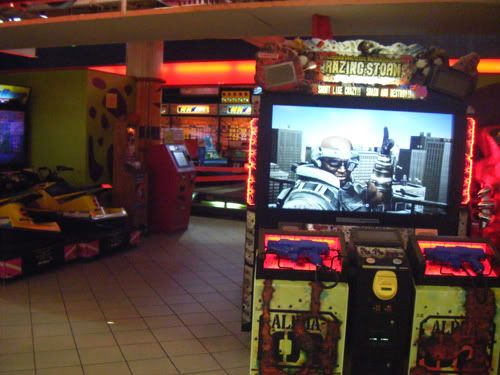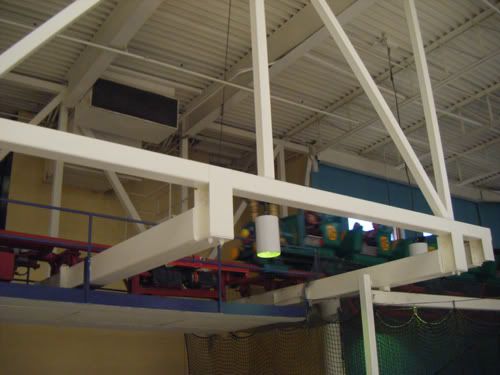 There was a roller-coaster going by over-head. It was going really fast! This is the best shot I took...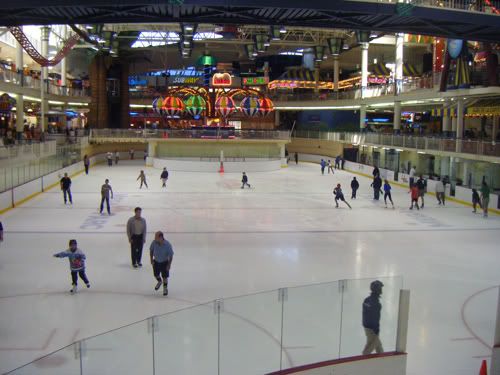 And yes! There's even an ice skating area!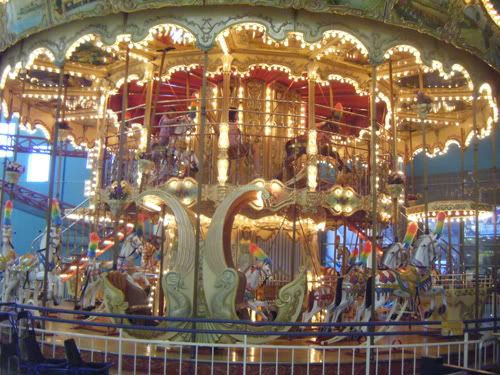 The carousel was my favorite!
Then we headed off to my god-father's place to relax for the rest of the afternoon. I took some time to get ready because then we were going out in town for the night.
Old Quebec City is one of the prettiest place I've ever been. We didn't go through it all, so you guys won't get a lasting impression from my pictures, but I highly recommended. Last year they celebrated their 400th anniversary!
Quebec is where the English and French battled for quite some time. The plains of Abraham is where it all went down. You can visit the fortresses and the citadel too. Very cool if you like history!
We found a free parking on the side of a little street and started walking.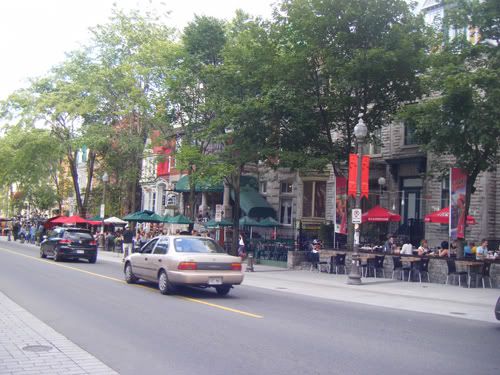 This street is commonly refered as "La Grande Allée". Lots of restaurants, cafes, and bars.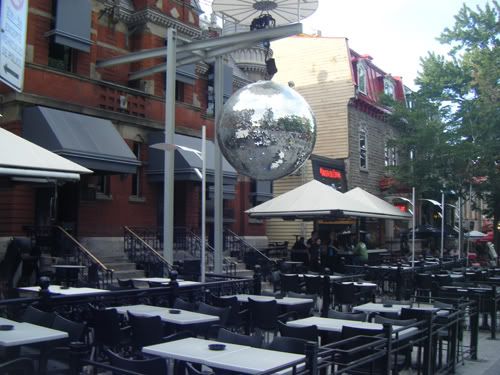 This one for instance, is one of Quebec's most famous dance club. It's called "D'agobert". I was really impressed with the outside look, so I insisted we come back later when it's open.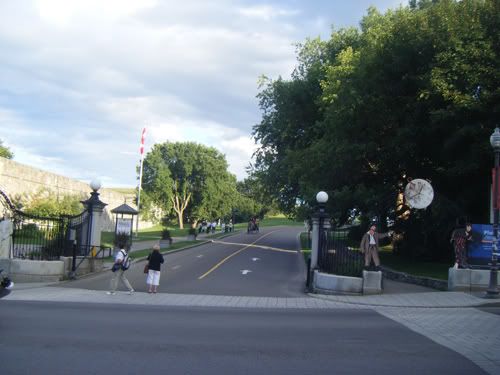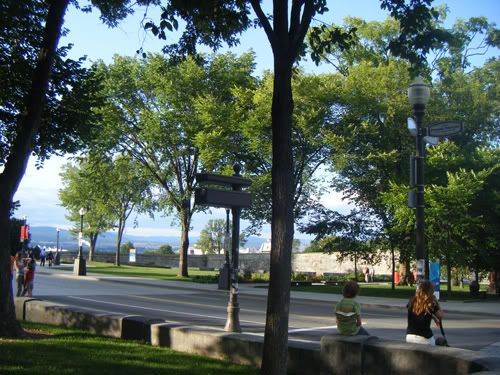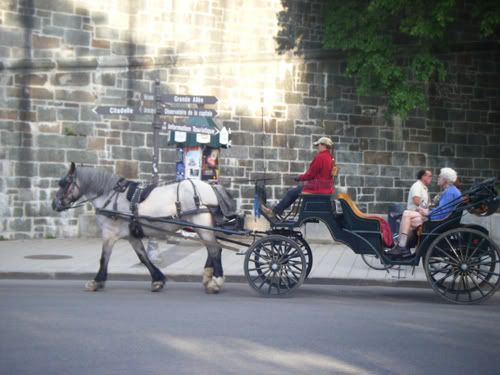 Typical of Quebec city. Horse carriage for rides around town. I'd never done one and insisted we do one after we had dinner.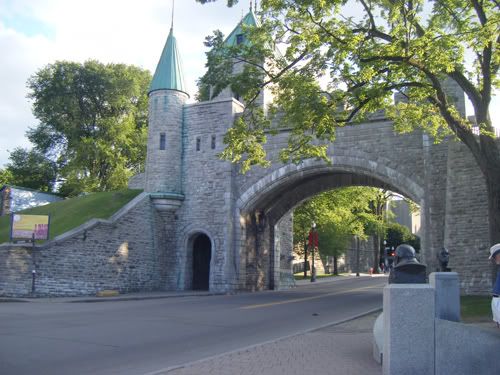 Part of the great wall that's attached to the fortresses and citadel, used to protect Quebec city way back in the old days.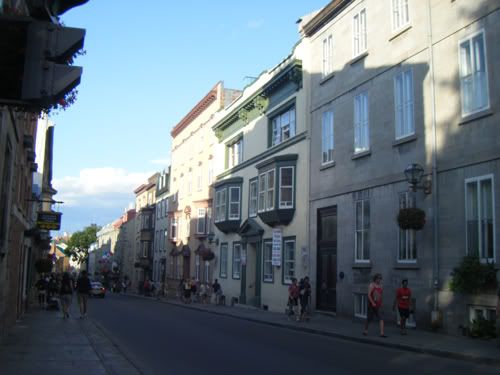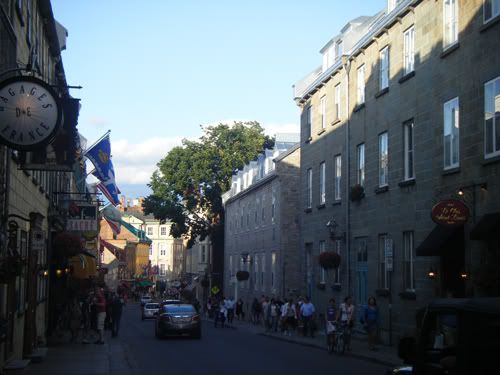 The city's kept a lot of its old buildings and houses. Most of them have shops and restaurants at the bottom with apartments for rent at the top.
Then we found where we wanted to have dinner!
We couldn't have picked better. The food doesn't look like much on the pictures, but it was AMAZING!
It was a "table d'hote", with entree, make course and desert.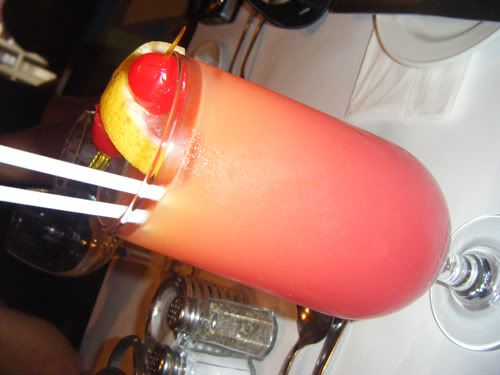 My drink. I can't remember the exact name... It had "sunshine" in it. LOL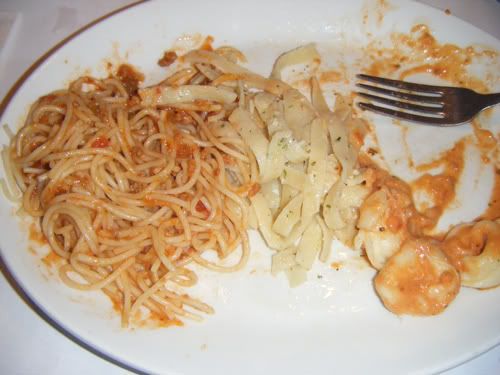 I was so hungry I forgot to take a picture and started eating right away. Haha, oops!
When we got out of the restaurant it was dark. We walked around and tried to find a horse carriage that was free. After waiting in one spot for 15 minutes, someone came to tell us they were parked somewhere else. They should really put out signs!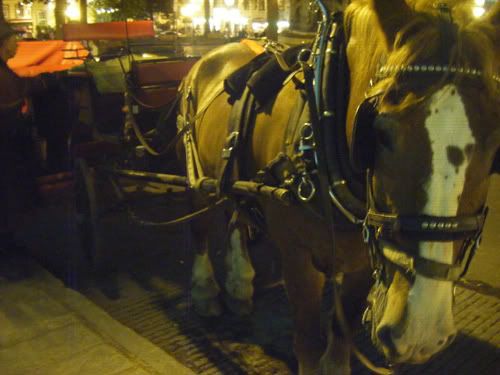 (No flash not to scare horsey <3)
We got a chance to meet Gilbert and Mozart! Gilbert being our host and Mozart, the horse. It was a 45 minutes ride, which was awesome. I really liked it! Gilbert talked to us the entire time, telling us about things we went by, the history of the city and answered all our questions.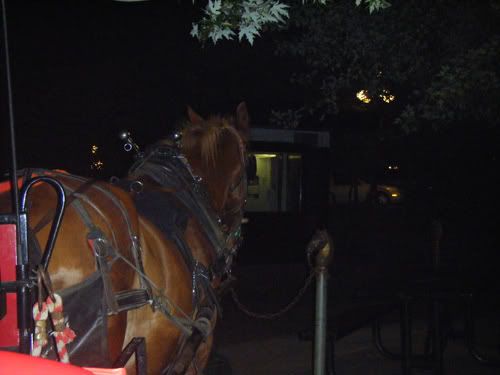 Mozart!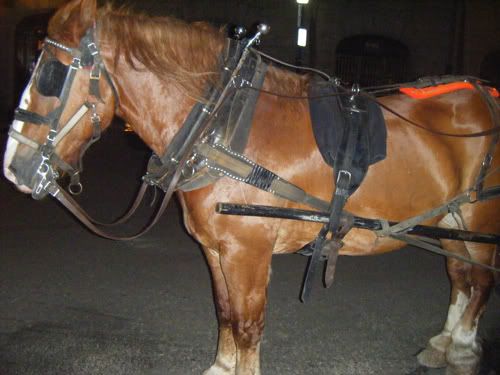 I took pictures of the city, but it was dark and my camera's kinda cheapo, so none of them turned out good. Sorry :(
After the tour, we went back to the Grande Allée and toured the clubs!!
Remember the picture above? The D'agobert? This is what it looked like after dark: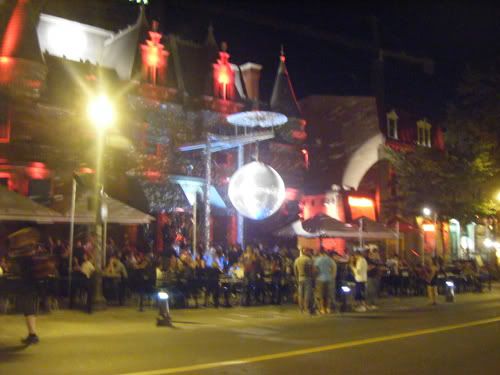 Looked REALLY cool on the outside. The bouncer started flirting with me when he asked for my ID. But then when we got inside, I was really disappointed. It looked old and super dirty. And everyone in the bar was... well for lack of better word, skanky. It felt like I was a strip club. The DJ was playing music from 2 years ago. I was not impressed. There are 3 floors, the top floor you can watch the people dancing on the 2nd floor, the huge dance floor. Then I saw 2 girls fighting, when security took them out, there were chunks of hair on the dance floor. I was disgusted and decided it was time to leave.
My god-father knew of another bar he thought would be more my style. And he was totally right! We went for the "Beaugarte". With a name like that, I was like "Oh boy, another skank hole?" But no! It was SUPER classy! I loved it!!
I went on the dance floor and started dancing with a random guy. He was dancing by himself, but he was dancing REALLY good. And then I met with a random girl and we danced together. So, I forgot to take pictures, was having too much fun, sorry! n____n''
It was on a Wednesday, so there weren't that many people. But I was really impressed. There were 3 areas with bartenders, THEY HAD UNIFORMS! I'd never been to a bar anywhere in America, that had its employees wearing a uniform. The ceiling was painted in different colors. There were couches with cushions all around. Taller tables with stools. One wall had glass all over with water behind and bubbles going up and down. It was classy, they were playing remixes of the awesome songs currently playing on radio and everyone was super friendly and happy. I didn't see one single person hanging out by themselves, everyone was mingling together on the dance floor.
My favorite dance club, of all time! Next year I'm going back with pals for sure, on Friday!
So, that's it. It was a short vacations, but a well deserved one and it was fun!